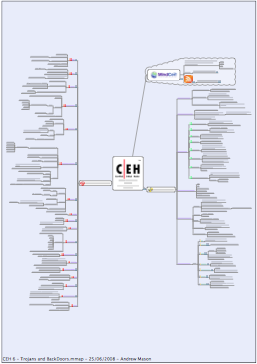 We have just uploaded the next Mind Map in our CEH series of Mind Maps.
This is the Mind Map covering Module 6 of the Certified Ethical Hacker, Trojans and BackDoors.
In This Mind Map we cover what Trojans are, how they propagate and also the most common types of Trojans that make up part of the CEH syllabus.
Trojans are a key topic to understand as part of your CEH study or general security knowledge. They have been a major issue in the security arena for quite a few years and have caused a lot of financial security breaches as well as mischief on industry.
Follow this link to download the Mind Map and please comment on this post to let me know any suggestions you may have on how to improve these Mind Maps.