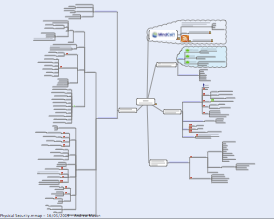 I am happy to bring you the fourth Mind Map that covers the CISSP Certification. We have already brought you the Mind Map for BCP, Access Control Systems, and Application Development.
This Mind Map covers the Physical Security Domain out of the Common Body of Knowledge. Yep, this is the famous domain that everybody jokes about when studying for the CISSP. Guard Dogs, Security Guards, Security Lighting, it is all in this domain.
When taking the test, this domain was real easy. Just remember the values that are depicted in the Mind Map as well as the pros and cons of each type of Physical control and I am sure you will do just fine.
I have another six Mind Maps to do and I am just spacing them out, would love to hear some feedback. Lots of people download my Mind Maps but not many comment. Are they good? Any suggestions for improvements? Any suggestions for other Mind Maps? Anyway, until next time..
Please Download and Enjoy this Mind Map.