Thanks for taking the time to visit and find out more about MindCert.com.

MindCert.com is owned, funded, and operated by Mason Technologies Limited. The Director of Mason Technologies Limited is myself, Andrew G. Mason. Mason Technologies are a UK based consultancy provider of Cisco and IT Security related technology services.
I have over 15 years experience in the Information Technology and self development arenas. I am the author of several books for Cisco as well as the holder of many certifications.
The story starts back in 1998. I had been an MCSE for a year and had progressed to pass the MCSE+Internet as well as a few other certifictions such as the CNE, A+ and Network+. As part of the MCSE+Internet I had learned about Microsoft's Internet Information Server, and had practiced configuring quite a few websites, including an intranet for my employer at the time. I had recently left his employer, having attained the MCSE and moved into the lucrative world of contracting in the UK. Having started my own company, Mason Technologies Limited, I then went on to set about a website for the business.
This was quite early days for the Internet and I just utilized my free space he received from his ISP to launch the first Mason Technologies website at www.masontech.clara.net. I used this as a simple business site as well as taking the initative to post some good Internet links that I had found whilst studying for my exams. I signed up for one of the first MCP (Microsoft Certified Professional) Study Rings to promote his simple site. The site at this stage consisted of a few links, and also more importantly, my own study notes that I did for the MCSE Exams.
Well, the results were amazing. Linked in with the fact that the MCSE was exploding at that time and the massive growth rate of the Internet, the Masontech website recievied more page view than I could have ever imagined. We all had counters on our sites back then and mine was growing at an alarming rate!
Becuase of this, I went ahead and purchased the domain Masontech.com, and also hosting space so I could run my own proper server. I got to work on the site and replicated what I had done with masontech.clara.net on the www.masontech.com website.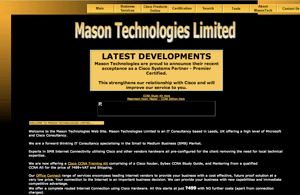 This is what I refer to fondly as the "Black Website", and I am sure you can see now. Well, I grew the list of certifications on this site and around this time (end of 1998) I discovered Cisco, and thought it would make sense to understand what actually happened on the network, especially as all the server guys always blamed everything on the network!
This was a very wise move and I never really looked back from this day and made Cisco my technology of choice and certification goal of choice.
Due to the success of the Masontech.com website as a certification website, I decided to start a software application called the Masontech Exam Master. This was a simple Q&A type application similar to Transcender and Boson. There are still links to Exam Master on various hack sites!
It is amazing how many people I have met who still remember Masontech.com, especially for Cisco CCNA, CCNP, or MCSE studies around the turn of 1999/2000. At least I know my work was not in vein.
I had really ramped up my study notes now. I had passed a few Cisco exams such as the CCNA, CCDA, and I was part way through my CCNP. I had written a 60 page study guide for the CCNA and this was copied and sent all over the world to help people pass. I even had people try to claim it was their work, all of which I class as being very complementary to my hard work.
It was because of this, and also some work I had been offered on Cramsession and Extracheese (later became BrainBuzz.com) that I received the invitation to write my first book. This was the Cisco Internetwork Troubleshooting Book for McGraw Hill.
This book started me as an Author and I have never looked back since, writing seven titles now, five of which are for Cisco Press.
Be sure to check out all of my titles on the "Andrew's Publications" page on the site
In 2001, I teamed up with a friend and colleague, Chris White, who runs www.broadbandchecker.co.uk, and we started work on the next model, based upon Cisco certification.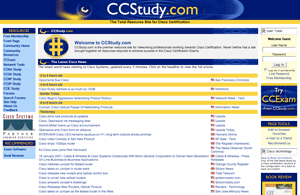 This new venture was to be called CCStudy.com. CCStudy.com was to be a Cisco focussed community portal. We had news feeds about Cisco, exam information, branded study guides, and also free and paid for tools. The free tools included CCSubnet, which was a Subnet Calculator and also a Syslog Server. The paid for tool was CCExam. CCExam was the progression of the Masontech Exam Master and was a C+ written application to mimic the actual testing experience. We had a great question set, written by myself and checked for errors.
Overall, we had great success with CCStudy and CCExam. When we eventually closed the doors on CCStudy due to time constraints and the fact that Chris and I had just got involved with another two partners to start a Cisco Managed Security Services Provider, we had just over 60,000 members. All of this in just under 18 months of being online.
So, in between these times I wrote a few more books, and passed a lot more exams.
I passed my CCIE (#7144), in April of 2001 on my first attempt and I have also passed exams such as the CISSP and CEH. My full list of certifications (some expired) is:
Microsoft MCP
Microsoft MCSE
Microsoft MCSE+Internet
Novell CNA
Novell CNE
CompTIA A+
CompTIA Network+
CompTIA Security+
NSA InfoSec
CheckPoint CCSA
CheckPoint CCSE
RSA CSP
Cisco Sales Expert
Cisco CCNA
Cisco CCDA
Cisco CCNP
Cisco CCDP
Cisco CCSP
Cisco CCNP:Security
Cisco CSS-1
Cisco CCIE #7144
CISSP
Certified Ethical Hacker (CEH)
Phew, I did need a large business card!
So, this brings me back to where we started, with MindCert.com.
I truly believe that the methods I am going to blog about will help you in your studies. The technology Mind Maps and motivational and productivity ideas that I have devised, promote, and use myself will help you achieve your success,
All by utilizing the power of your mind……
Thanks,
Andrew..