Hot on the heels of my NetCat Mind Map I am happy to bring you my Wireshark Mind Map.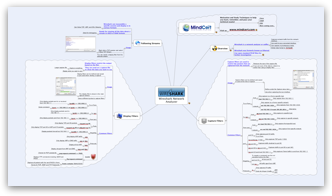 Wireshark is the advertised as the worlds foremost network analyzer. It is provided as open source software and is therefore free to download and use.
Wireshark used to be called Ethereal and it is a tool I have been using for a number of years.
Sometimes, when troubleshooting, the ability to capture packets from the network and analyze what is going on is the only way to truly get to the bottom of an issue. There have been so many times when I have fired up Wireshark and fixed a network issue in a matter of minutes.
This really is a tool that you MUST learn how to use if you are involved in any network, security, or sysadmin role. The capture and display filters can be tricky to learn so persevere to get the tool to do what you want it to.
Take a look at the Mind Map and I also suggest you download Wireshark and get testing it on your own network.
I am already working on some more Mind Maps and they will be published soon.